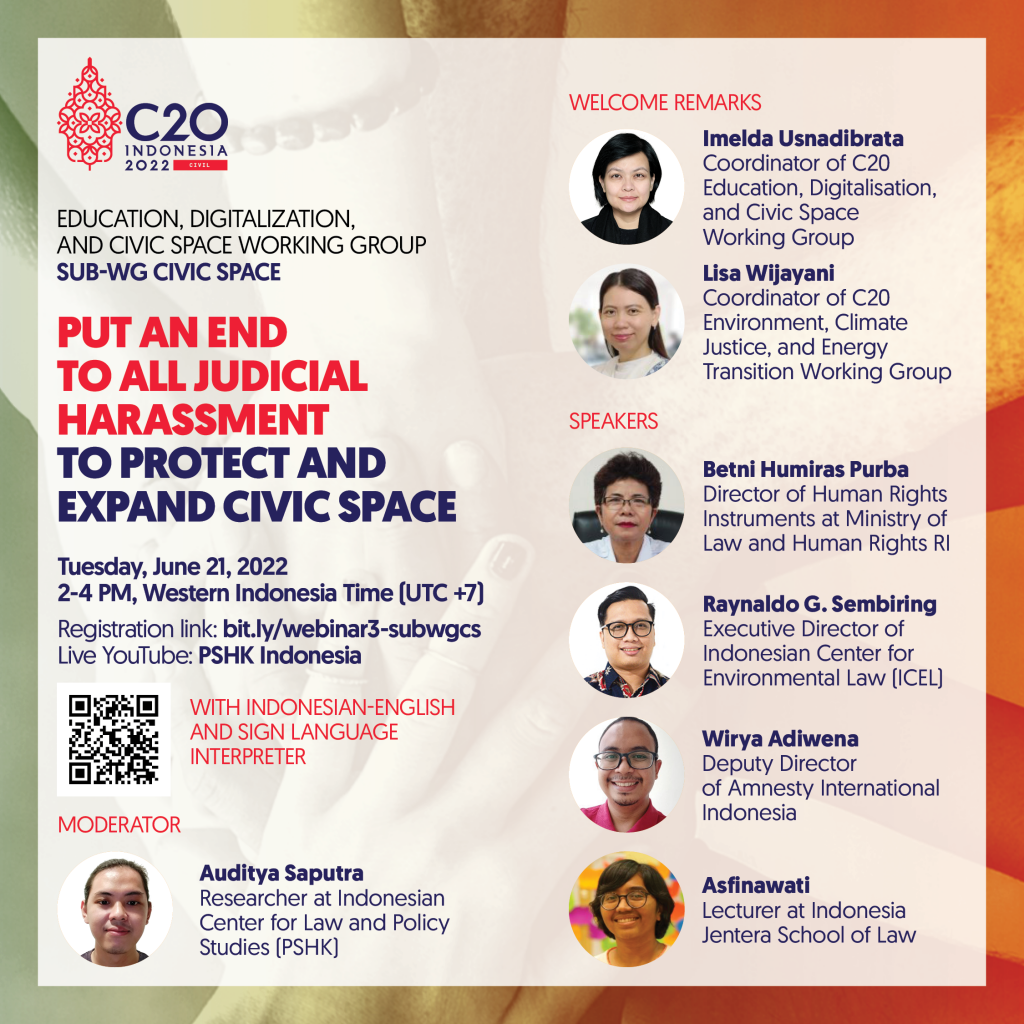 Discussions about civil society cannot be separated from the existence of actors, namely human rights defenders. However, the recent trend of cases reflects apart from the narrowing of civil society's space for movement with several attempts to criminalise human rights defenders; also extends to various elements in society such as academics, journalists, organisations, and the public in general.
We call you to join the webinar on putting an end to all judicial harassments, and to protect and expand civic space. This series of thematic public discussions is carried out in developing and protecting the civil space as one of priority issues raised by the C20 Sub-Working Group.
Welcome Remarks
Imelda Usnadibrata – Coordinator of C20 Education, Digitalisation, and Civic Space Working Group
Lisa Wijayani – Coordinator of C20 Environment, Climate Justice, and Energy Transition Working Group
Speakers
Betni Humiras Purba – Director of Human Rights Instruments at Ministry of Law and Human Rights RI
Raynaldo G. Sembiring – Executive Director of Indonesian Center for Environmental Law (ICEL)
Wirya Adiwena – Deputy Director of Amnesty International Indonesia
Asfinawati – Lecturer at Indonesia Jentera School of Law
Moderator
Auditya Saputra – Researcher at Indonesian Center for Law and Policy Studies (PSHK)
Tuesday, June 21st 2022
2-4 PM, Western Indonesia Time (UTC +7)
Registration link bit.ly/webinar3-subwgcs
With Indonesian-English interpreter and sign language interpreter
Let's join us to #ProtectandExpandCivicSpace!