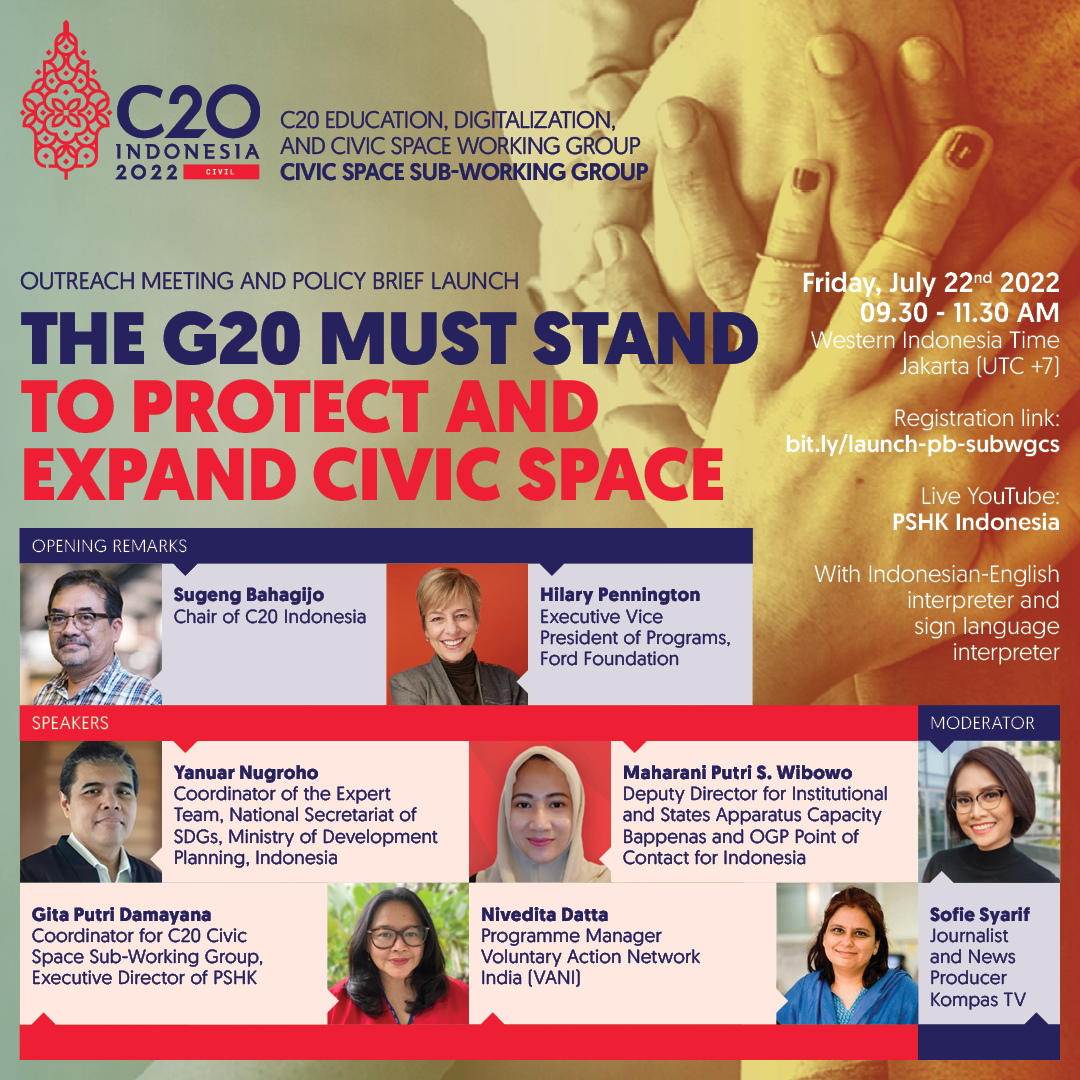 C20 Sub-Working Group on Civic Space has conducted global and national consultations involving multi-sector stakeholders such as academics, activists, and policymakers on a national and international scale. Recommendations and feedback gathered during consultations are used to support priority issues of the policy brief.
After going through a process, the C20 Sub-Working Group on Civic Space is planning to hold the outreach meeting and policy brief launch. We invite you to join the event to encourage G20 countries to protect and expand the civic space!
Opening Remarks
Sugeng Bahagijo – Chair of C20 Indonesia
Hilary Pennington – Executive Vice President of Programs, Ford Foundation
Speakers
Yanuar Nugroho – Coordinator of the Expert Team, National Secretariat of SDGs, Ministry of Development Planning, Indonesia
Maharani Putri S. Wibowo – Deputy Director for Institutional and States Apparatus Capacity Bappenas and OGP Point of Contact for Indonesia
Gita Putri Damayana – Coordinator for C20 Civic Space Sub-Working Group, Executive Director of PSHK
Nivedita Datta – Programme Manager Voluntary Action Network India (VANI)
Moderator
Sofie Syarif – Journalist and News Producer Kompas TV
Friday, July 22nd, 2022
09.30-11.30 AM, Western Indonesia Time – Jakarta (UTC +7)
Registration link https://bit.ly/launchpb-subwgcs
Live YouTube: PSHK Indonesia
With an Indonesian-English interpreter and sign language interpreter
Let's join us to #ProtectandExpandCivicSpace!